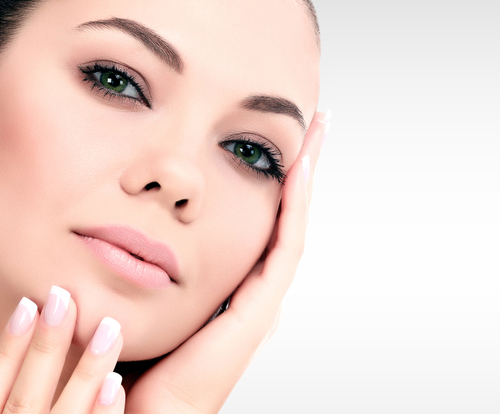 With the ready availability of injectable dermal fillers today, we no longer need to rely only on surgery to combat facial aging.  Properly chosen dermal fillers can be used to restore lost facial fullness, fill deep hollows, smooth wrinkles and support weakened and inelastic skin and even enhance chin and cheek bones.  Dr. Herte performs all facial sculpting procedures herself for the best aesthetic control of your result.  Her surgical expertise and aesthetic sense enhance her skills with injectables.  A "liquid facelift" can stand alone or enhance the results of your surgery.  With her wide surgical and injectable experience, Dr. Mary C. Herte can help you achieve the most natural and least invasive facial rejuvenation at our Las Vegas cosmetic surgery practice.
Why should I get dermal injectable fillers?
---
Enhancing or rejuvenating your facial features with injectables can be beneficial at any age.  Dr. Herte customizes the procedures to fit your personal beauty goals and unique facial features.  Dermal fillers allow us to achieve the facial balance that was not possible in the past with skin tightening facelift procedures alone.  Hollowing of temples and under-eye area and loss of cheek pad fullness detract from the naturally beautiful oval facial contour.  Restoring volume in these areas with dermal filler can achieve an amazing level of rejuvenation at our Las Vegas office.  Further enhancement can result from filling the deep lines from nose to mouth (nasal labial folds) and from mouth to chin (marionette lines) giving a smoother contour to the lower face.  Loss of elasticity of the cheeks, jowls and chin can cause multiple crease lines and sliding of the skin from lack of support and firmness.  Use of filler to create a support framework beneath the skin can remarkably firm and smooth these areas, as well as straighten and firm the jawline.  Filler can even be used to visually narrow a wide nasal bridge and to soften a prominent nasal hump without surgical nasal reshaping rhinoplasty in Las Vegas.  Modest enlargement of the chin and cheek bones can also be achieved without silicone implants
What difference kinds of dermal fillers are there?
---
A wide variety of injectable dermal fillers are available today at our practice in Las Vegas. Each one has special qualities and sometimes subtle differences that make it work better for one use than another.  Dr. Herte has extensive filler experience and can guide your choice to achieve the best result from each specific filler. At the Herte Center for Cosmetic Surgery in Las Vegas, Dr. Herte uses hyaluronic acid fillers (Juvederm®, Restylane® and Perlane®), Radiesse® (Calcium Hydroxylapatite ), and Sculptra®Aesthetic with results lasting from about 6 months to 2 years or more.
Dermal Fillers for Facial Enhancement in Las Vegas
---
Botox® and Xeomin® belong to another class of dermal fillers that need to be included in the concept of a "liquid facelift".  While these products do not "fill" lines, Dr. Herte can use these muscle weakening drugs to soften lines caused by excessive facial expression movements as well as prevent the deepening and persistence of those lines.  Facial expressions may become too strong over time and as a result you may find yourself clenching your eyes nearly closed on smiling and keeping your eyebrows pinched together in a frown even when you are feeling happy and relaxed.  Injection of Botox® or Xeomin® can soften your expressions so that your facial expressions are more in harmony with your true feelings.  Dermal filler injections can also balance facial muscles, resulting in a more pleasing brow position ("chemical brow lift"), or create more upturn to the corners of your mouth.  Dr. Herte also uses Botox® for very effective prevention and treatment of migraine headache.
Schedule a Facial Sculpting and Dermal Filler Consultation in Las Vegas
---
If you have questions about how facial sculpting can rejuvenate and balance your face, contact our Las Vegas cosmetic surgery center today, and speak to our helpful and very knowledgeable staff.  During your in-depth consultation, Dr. Mary Herte will discuss your many options for facial rejuvenation and help you choose the best rejuvenation procedures and types of injectables for a beautifully fresh and natural appearance.  Schedule your consultation today!